Book Now
Pimalai Care
---
Pimalai Resort & Spa has enhanced its hygiene and safety protocols in line with the "new normal" of travel and hospitality. "Pimalai Care" is an initiative that includes three disinfection tunnels, ozone sanitisation in the guest rooms and heat cleaning in the kitchens.

As the world gets ready to travel again, Pimalai Resort & Spa has devised a comprehensive action plan that encompasses every step of the guest journey, bringing total reassurance to its customers while maintaining the high quality of its service and its authentic Thai hospitality.

At Pimalai, the health and safety of our guests and staff is always our highest priority. That is why we are stepping up all our precautionary measures, in line with the recommendations of the World Health Organization and the Thai authorities. A dedicated Hygiene Manager has been appointed to implement and monitor "Pimalai Care". Thanks to these new protocols and our unique secluded setting, customers can book in complete confidence.

Privacy and social distancing are already guaranteed at Pimalai, thanks to the location and layout of the resort, which is nestled in 100 acres of tropical jungle on the quiet southern tip of Koh Lanta. Accommodation is spread throughout the estate and villas are separated by lush vegetation and spaced by at least two metres. There are no corridors and elevators. All public areas, pools and F&B outlets are in the open-air, and outdoor activities can be organised in total safety on the long, private beach. On top of these measures, Pimalai has acquired additional golf carts to quickly carry guests around the estate in smaller groups.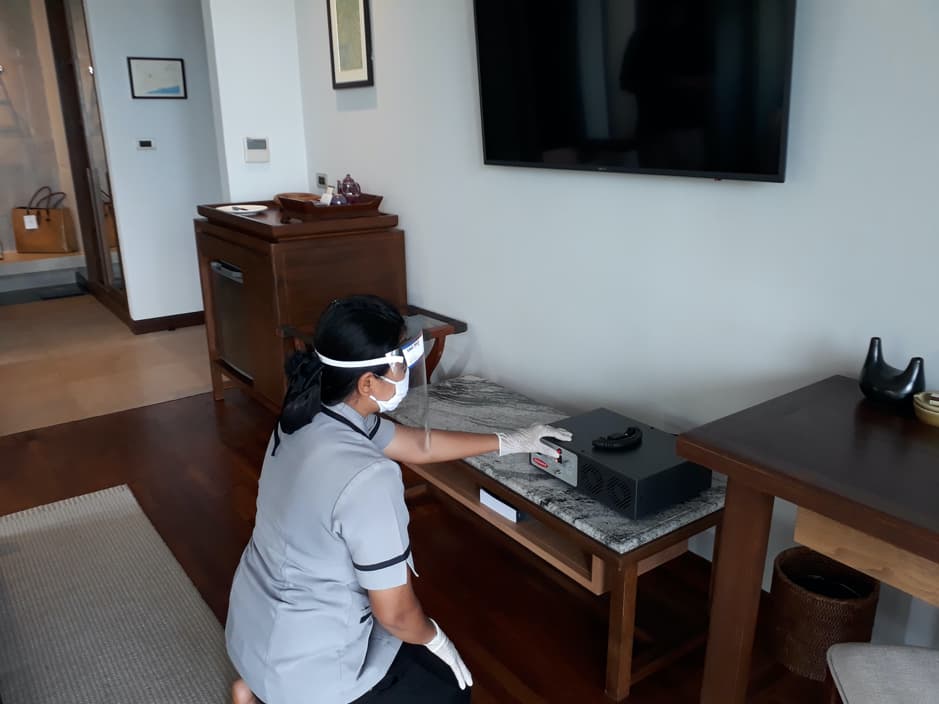 Doorknobs and all high-touch areas are meticulously and regularly sanitised at Pimalai Resort & Spa
All staff, visitors and guests will have their temperatures checked upon arrival at the resort and before entering the spa. Located at key strategic gates, three sterilisation tunnels will also be set up to disinfect people and luggage in total safety through automatic spray nozzles. In case of any emergency, Pimalai's private boat and car can quickly reach the main hospital in Krabi. All employees are required to wear face masks and undergo weekly Antigen test to ensure that they are free from Covid-19. Hand gel dispensers will also be available in public areas and masks will become a standard amenity in every room.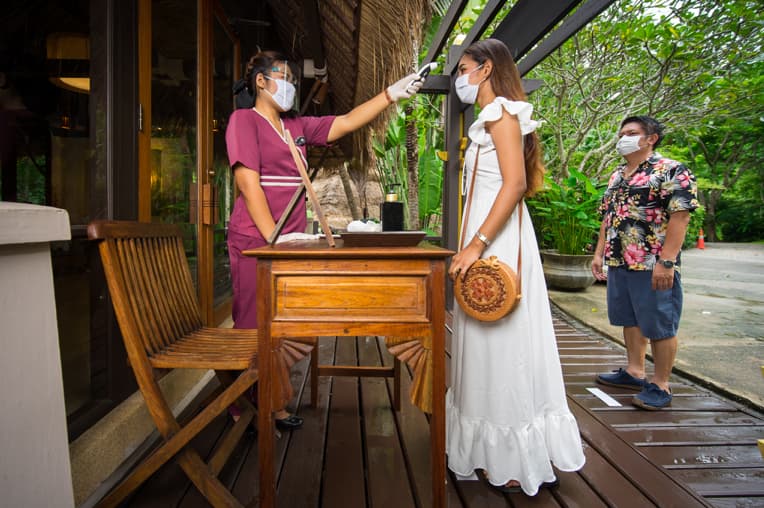 Temperatures will be checked when guests arrive at Pimalai Resort & Spa